Quality, environmental work as well as sustainability are very important for our activities. Lesjöfors has an on-going programme for monitoring and improving our processes, seen from an environmental perspective.
In our company we follow up our traditions. Experience is the core to new knowledge and the driving force behind all progress. Knowledge and skills can never be used up, only refined. Knowledge always leads to new knowledge. Our expertise is the technology of springs, stampings and strip components. Lesjöfors has operated in these fields for a substantial number of years, and our aim is to keep our market leading position. 
Our major qualities that have made us market leader are:
High competence
Superior customer Service
Cost effective production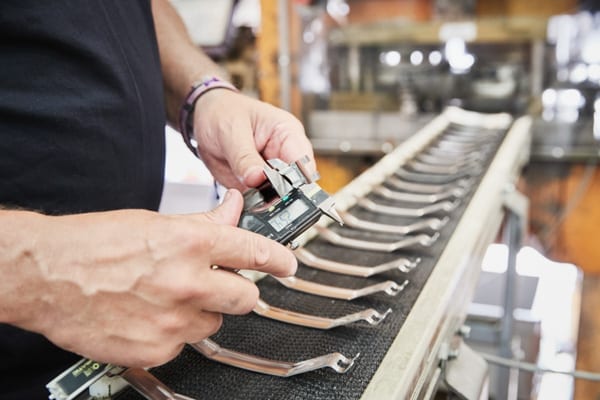 Quality and environmental policy
Our ambition is to always deliver top quality products and services with as little environmental impact as possible. 
To be able to achieve this, we:
continuously follow up, re-examine and revalue our systems and set goals
consider and evaluate quality  and environmental aspects in the processes we canaffect
introduce continuous improvements at all levels in our business
make arrangements to prevent mistakes and shortcomings
secure that our business always live up to current law and demands
increase expertise, awarenesses and understanding among our staff on a regular basis
Our Code of Contact focuses on three areas: People and society, the environment and ethics.It addresses our approach to suppliers, quality and product liability. The Code outlines our efforts to create a sustainable value chain. While the Code itself provides support, it only becomes tangible and makes a difference when it is applied in our daily operations.
Sustainability creates business opportunities. For Lesjöfors AB, the connection between successful business operations and corporate social responsibility is obvious. In addition to contributing to a better world, our sustainability work creates new business opportunities, cuts costs, reduces risk and allows us to meet the demands and expectations of interested parts within and outside the Group.
Our work focuses on four target areas:
Sound business ethics and social commitment
More efficient use of resources

Reduce climate impact



Safe and stimulating work environment
Innovate with sustainability in mind
If you have noticed behaviour that is not in line with our sustainability goals, or any suspicious or actual misconduct, please report it in our whistleblowing report.
We guarantee full anonymity and confidentiality. 
This is a service provided by our owner Beijer Alma.