Power Springs are identified by many coils of strip material stored in a case, barrel, keeper, or band, and connected to a central arbor. During operation, either the case or the arbor will be fixed, while the other component is left free to rotate. Depending on the requirements of your application, it may be beneficial to use a fixed arbor/free case, or a free case/fixed arbor arrangement. When the case or arbor is rotated, the material starts to wind flat against the arbor and build-up; this action generates torque for as many turns as the material length and available space permit.
Power Springs can be produced by conventional (from flat) methods, as the original watch & clock springs were; or can be produced by pre-stressed (back wound) methods. Pre-stressed Power Springs are coiled with cross-curving imparted to the strip using specialized proprietary forming processes, and then back wound into a case, barrel, keeper, or band; whereas conventional Power Springs are manufactured and wound in the flat state into a case, barrel, keeper, or band.
The advantages of pre-stressed Power Springs are that they allow maximized torque output, and maximized total turns, in a minimized space envelope. Conventional Power Springs offer maximized cycle life, whilst occupying a slightly larger space envelope, and less total turns capability.
The torque output that Power Springs provide increases relative to the cross-sectional area of the strip material. The number of turns the Power Spring can provide is determined by the space envelope available between the arbor OD and the case ID, and the total length and thickness of the strip material.
Many of our Power Spring customers are trying to solve solutions with a Power Spring for the first time; and have little experience of Power Springs capabilities and characteristics. Lesjöfors is here to help; by providing expert metallurgical knowledge, with long experience in Power Spring production, and spring design optimization using our advanced proprietary spring design software. We also offer performance testing that allows for rapid production of spring prototypes to help our customers achieve a competitive advantage by improving their speed-to-market.
Lesjöfors has been manufacturing Power Springs since 1926, initially to support the watch & clock industry; today our advanced flat strip spring manufacturing processes form strip material into versatile Power Springs for a myriad of energy storage and drive element applications. We look forward to finding the Power Spring solution for your application!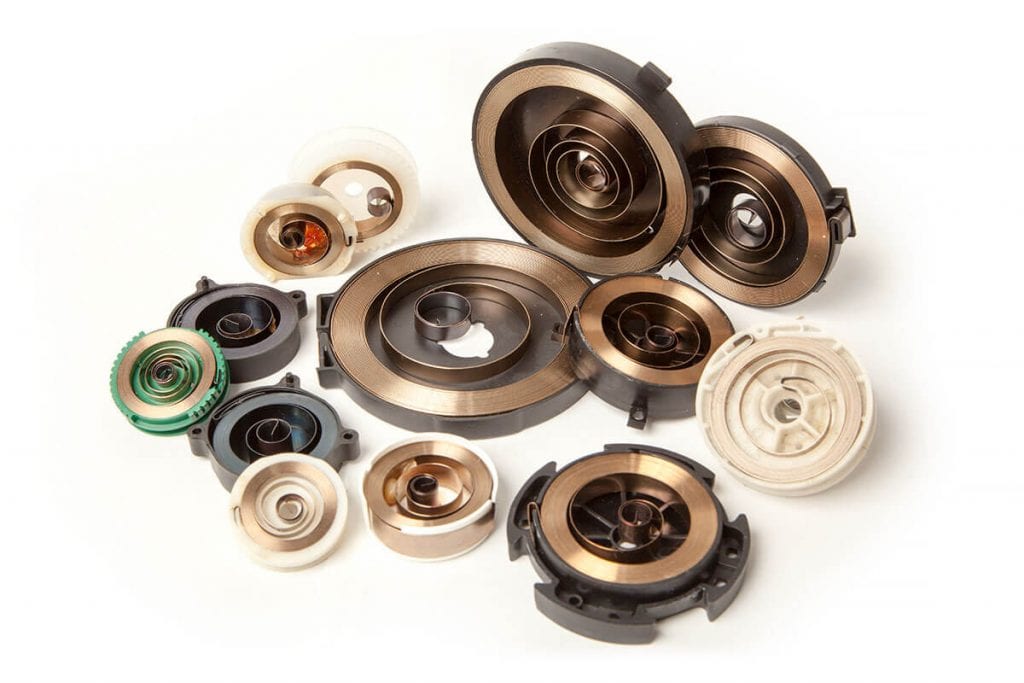 Dimensions available:
Power Spring thickness range 0.08-3.18mm
Power Spring width range 2.00-76.20mm
Materials available:
Stainless steel
Hardened & tempered carbon steel (martensitic)
High performance texture-rolled carbon steel
Typical applications: 
Seatbelt retractor
Cable retractor
Hose retractor
Rope retractor
Fall safety devices
Tool balancers
Webbing retractor
Tape measure
Retractable dog leash
Retractable lanyard
Point of purchase security
Length measuring systems
Starter springs
Timepieces, mechanical clocks
Pull start on small gas-powered engines